CHALLENGES IN ACADEMIC WRITING –A PRAGMATIC STUDY
Synopsis
The objective of this book aim at understanding common mistakes made by Scholars and Teachers while writing research papers, research proposals and research articles as a part of academic research. Data from 300 teachers and 250 scholars were collected pertaining to the errors they make in English Language while writing. The samples are basically non-native speakers of English currently affiliated to a technical institution.
Chapters
How important is English in scientific writing?

A Study on problems faced by the academicians in English while writing an academic paper

A report on challenges faced by students and research scholars academic writing skill in English language

A survey based analysis on challenges and problems faced by researchers in the early stage of writing research papers

An Efficient Questionnaire based system: Problems with Composing English Skills to Write a Research Paper

Problems faced by Researchers Scholar while writing Journal Papers -A comprehensive Study

Efficient English Usage While Drafting Research Paper

Utilising English: A Communicative Medium in Academic Writing

A Survey on English Language as a tool in Academic Writing

Analysing Aspect Influencing the academic writing in English Language

Importance of English language in research and problems faced by Scholars

Enhancing the basic skills of Students and Scholars for Academic writing in English language

Proficiency in English language while writing research – An analysis

Writing strategies and difficulties to publish the scientific paper in effective English language

Hurdles faced by researchers while writing and publishing academic papers in English

Writing Research Article in English: Bottlenecks for Scholars and Faculties

The necessity of English knowledge for the multilingual scholars for publishing their research papers in reputed journals

An overview of English language knowledge in the perspective of academic research writing - impact, challenge and implications

Survey on the Importance of English and Problems faced by Researchers and Faculties in Academic Writing

A Persuasive Study of English's Influence in Higher Education
Downloads
Download data is not yet available.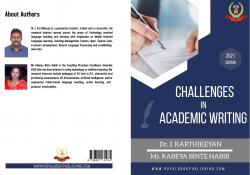 Copyright (c) 2021 Royal Book Publishing
Details about this monograph
Co-publisher's ISBN-13 (24)
9789391131074