FUNDAMENTALS OF MICROPROCESSOR
Synopsis
This book is written to meet the requirements of the undergraduate students of those Indian Universities. Fundamentals of Microprocessor which offers on the study of pin configuration, architecture, Instruction sets, addressing modes and programs of 8085 and 8086 microprocessor. This book is written for B.Sc Physics students All Indian Universities. The subject matter in this book has been developed keeping in view the actual difficulties faced by the students those who are from rural areas. Student should attempt to tackle them properly for better insight and understanding of the subject. All available standard books on the subject have been referred for the preparation of this book.
Chapters
Basics of Microprocessor

Generations of Microprocessor

The 8085 Microprocessor

8085 Microprocessor Instruction Sets

8085-Microprocessor Programs

8086-Microprocessor Programs
Downloads
Download data is not yet available.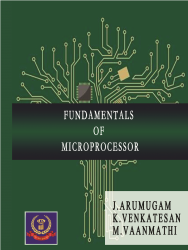 Copyright (c) 2019 Royal Book Publishing
This work is licensed under a Creative Commons Attribution-NonCommercial 4.0 International License.
Details about this monograph
Date of first publication (11)
2019-05-07
Hijri Calendar