"The war with pandemic world "LOCK DOWN LIFE
Synopsis
The present book compiles the life experiences of individuals from across the globe during the pandemic situation 2020. The year 2020, has been one of the most unforgettable year with the sudden emergence of novel corona and spreading across the globe like a wildfire claiming many lives and crippling the global economy.During this pandemic situation, the world activities were stand still due to lock down imposed across the globe.
Chapters
LOCKDOWN PERIOD: A FEW THOUGHTS

QUARANTINE DAYS OF A COLLEGE STUDENT

LOCK DOWN: LIFE WITHIN FOUR WALLS

THE TUG-OF-WAR THAT IS SELF-RELIANCE EARLY MARCH 2020

THE SMELL OF CORPSES ALL AROUND DURNING COVID-19

ADAPTATION TO THE POST PANDEMIC WORLD: A BEHAVIOURAL STUDY

DIGITALIZATION – A COMMUNICATIVE BRIDGE IN SCIENCE DURING PANDEMIC ERA

COVID-19 PANDEMIC: BOTH A BLESSING AND CURSE

A TALE TO TELL

HIGHER EDUCATION AND ONLINE TEACHING DURING THE PANDEMIC : EXPERIENCES OF A UNIVERSITY TEACHER

DARKNESS TO LIGHT

COVID-19 LOCKDOWN SAGA: THE NEW NORMAL FOR LIBRARIANS

COVID-19: CHRONICLES OF SOCIAL DISHEVELMENT AND REDEMPTION

MY LEARNING AND LIFE EXPERIENCES OF "NEW NORMAL" DURING COVID-19 LOCKDOWN

TEACHING EXPERIENCE DURING COVID-19

DAYS OF COVID-19 ARE THE REFLECTION OF DISTRESS AND EMOTION

THE BANE AND BLESSING OF COVID-19 PANDEMIC LOCKDOWN: PERSONAL EXPERIENCE

COVID-19 PANDEMIC CIRCUMSTANCES AND LOCKDOWN - A NEW CHAPTER OF LIFE

COVID: GOD'S GREAT BLESSINGS

LOCKDOWN AND NEW NORMALCY: FROM THE DIARY OF A RESEARCHER

COVID-19: HOW THE CLOSURE OF THE UNIVERSITY OF BARISHAL IMPACTS ON THE STUDENTS

IMPACT OF LOCKDOWN ON EDUCATION AND EMPLOYMENT

THOSE WERE THE GOLDEN DAYS

HOW WAS YOUR LIFE IN LOCKDOWN

THE STUDENT'S TALE: LOCKDOWN 2020
Downloads
Download data is not yet available.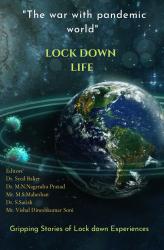 Published
January 2, 2021
Copyright (c) 2021 Royal Book Publishing
Details about this monograph
Co-publisher's ISBN-13 (24)
9798574782170