INTERNATIONAL CONFERENCE ON RECENT ADVANCES IN APPLIED CHEMICAL SCIENCES (ICRAACS 2019)
Synopsis
The Conference aims to provide vibrant opportunities for research/students to share their research experiences, research results, ideas, review of various aspects and practical development experiences. The Conference will mainly focus on the following topics which include invited, plenary and topical lectures of eminent researchers from various Institutions. Experts working in the areas like Polymeric and composite materials, Organic synthesis, Inorganic materials, Thin film/ Magnetic/Optical/ Semiconducting materials, Nano Materials, Smart Materials, Sensors, Environmental analysis and Miscellaneous topics are invited to participate and deliver lectures highlighting recent advances in their field of research.
Downloads
Download data is not yet available.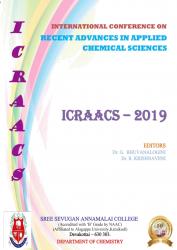 Published
February 19, 2020
Copyright (c) 2019 Royal Book Publishing
This work is licensed under a Creative Commons Attribution-NonCommercial 4.0 International License.
Details about this monograph
Co-publisher's ISBN-13 (24)
9789388413503