INDIAN ASSOCIATION FOR CRYSTAL (IACG) : IACG News Letter, Issue.31, January 2019
Synopsis
The IACG newsletter presents the achievements by the Indian Crystal Growth community. The objectives of the association are to promote, encourage and develop the theory and practice of growth of Crystals, to organize Conferences, Seminars, Summer Schools, Workshops, Hands on Training etc., in various parts of the country, to educate the people at various levels and offer a proper platform for reporting and discussing new developments in the field of Crystal Growth.
Office Address:
Indian Association for Crystal Growth (IACG)
SSN Research Centre, SSN Institutions (Autonomous),
Kalavakkam-603110,
Chennai, Tamil Nadu, India.
Downloads
Download data is not yet available.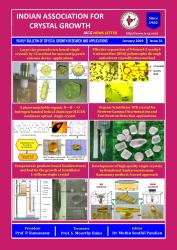 Published
October 26, 2022
Copyright (c) 2022 Royal Book Publishing
Details about this monograph
Co-publisher's ISBN-13 (24)
9789395423090