AN OVERVIEW OF SARS-COV-2: FEATURES, REPLICATION, PATHOPHYSIOLOGY AND THERAPEUTIC APPROACHES
Synopsis
This chapter summarized the basic features, pathophysiology, and treatment approaches of the novel coronavirus (COVID-19) that originated from Wuhan, China and since then declared pandemic worldwide by the World Health Organization. It covers an overview of the structural composition of the SARS-CoV-2 virus where the features of the surface proteins are thoroughly explained. The genomic organization of the single-stranded RNA virus is also elucidated in this chapter taking special note on the open reading frames and the associated peptide products. This chapter presents the viral life cycle and replication machinery inside a human host taking an account on the spike protein and receptor binding mechanisms. It also accentuates on the
pathophysiological changes in the alveolar tissues of the SARSCoV-2 infected patient.
Downloads
Download data is not yet available.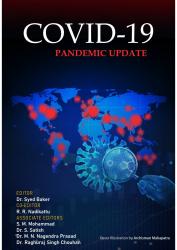 Published
September 29, 2020
Copyright (c) 2020 Royal Book Publishing
Details about this monograph
Co-publisher's ISBN-13 (24)
9789388413879