RECENT APPLICATIONS IN ADVANCED MATERIALS
Synopsis
Materials science plays a vital role in all the sectors of the economy. Its offers a bright future for the innovative and growth oriented students. Due to increasing demand for the researchers, it has become the most preferred career option all over the world. Materials science can be applied in various sectors such as in DSSC, Photo catalytic, Biosensors, Terahertz wave generation, laser, semiconductors, metals, composites, nanotechnology, carbons or high-tech ceramics, etc.,. This seminar will helps to know the recent applications and some research methods in the advanced materials.  
Downloads
Download data is not yet available.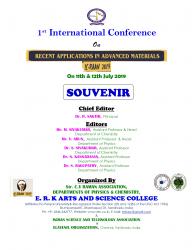 Published
February 19, 2020
Copyright (c) 2019 Royal Book Publishing
This work is licensed under a Creative Commons Attribution-NonCommercial 4.0 International License.
Details about this monograph
Co-publisher's ISBN-13 (24)
9789388413626