ADMINISTRATION OF CURRENT MEDICINE AGAINST COVID-19
Synopsis
The emergence of novel corona virus (COVID-19) has resulted a state of emergency across the globe. The situation has hampered the global health care sector with limited or no choice of drugs to combat the current scenario. WHO and other governing agencies are tapping the scientific resources to come up with best possible solution and medication. Based on which the present chapter has been executed to highlight the drugs and therapeutics as first line of defense against the COVID-19.The chapter also highlights on the attempts of developing
vaccine against this pandemic crisis.
Downloads
Download data is not yet available.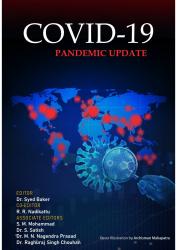 Published
September 29, 2020
Copyright (c) 2020 Royal Book Publishing
Details about this monograph
Co-publisher's ISBN-13 (24)
9789388413879